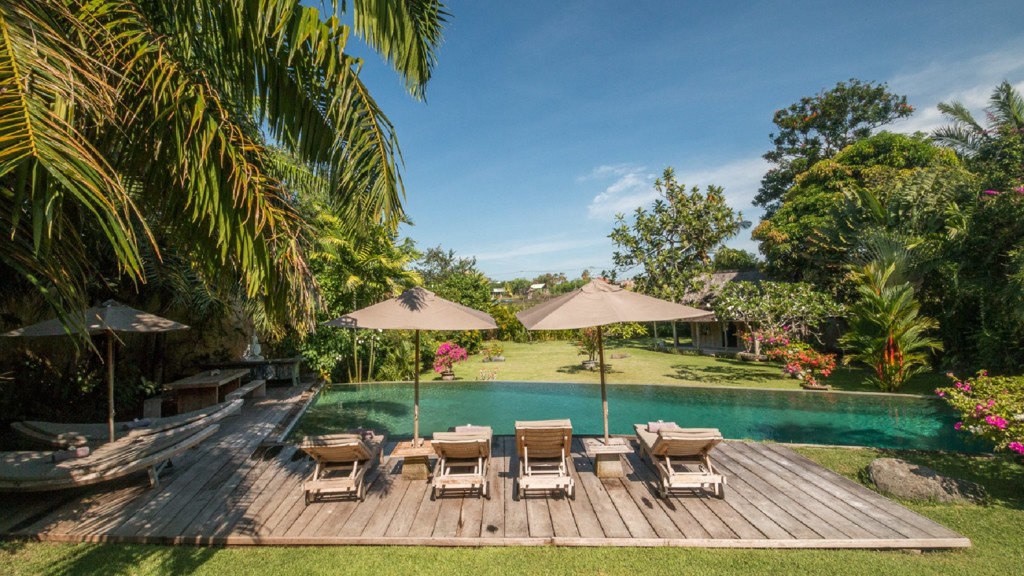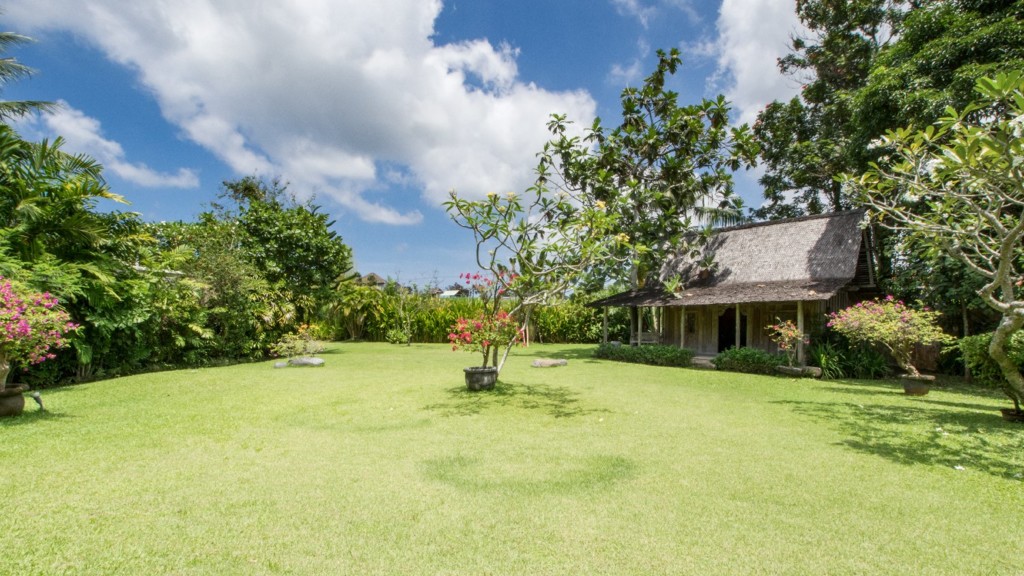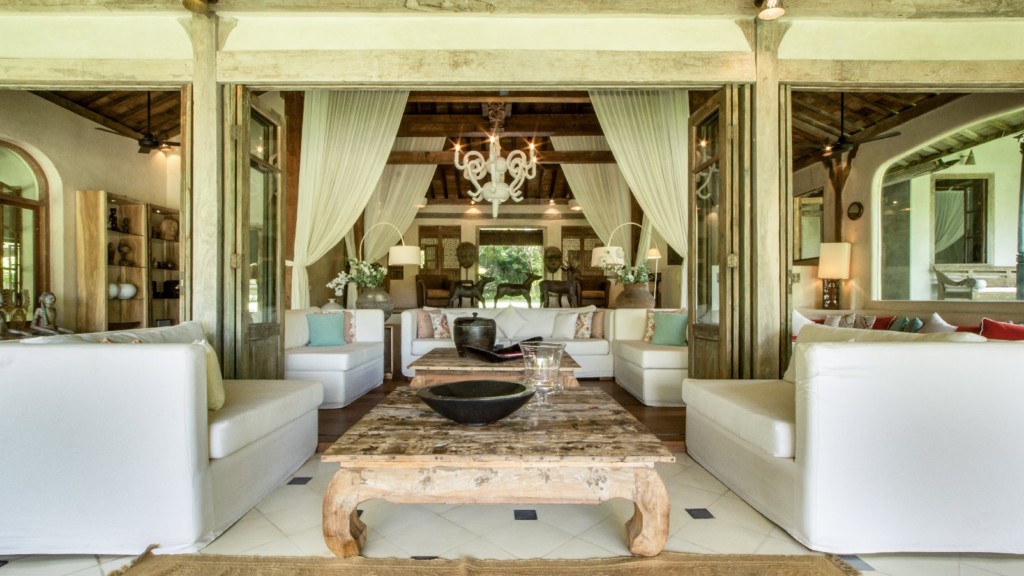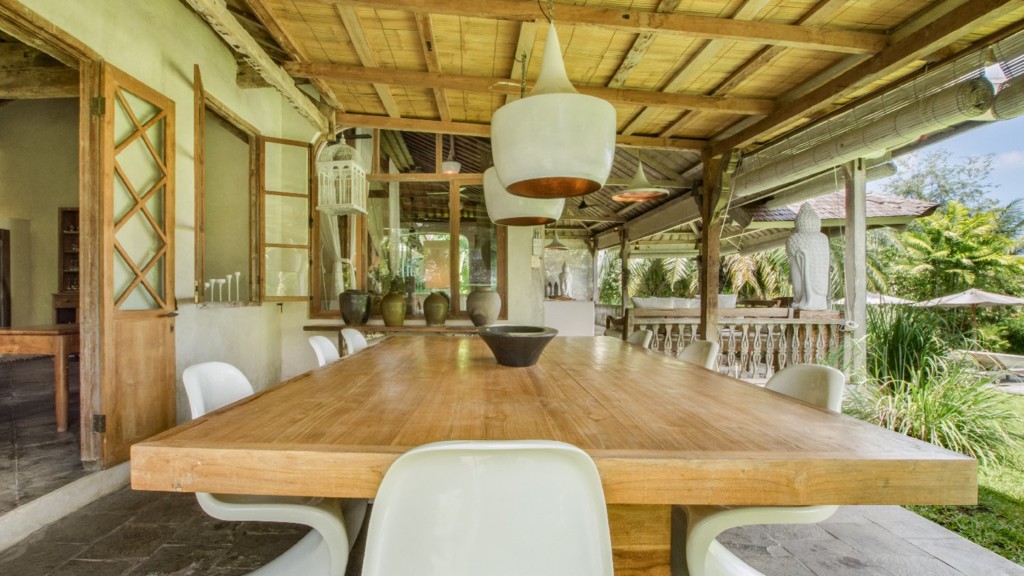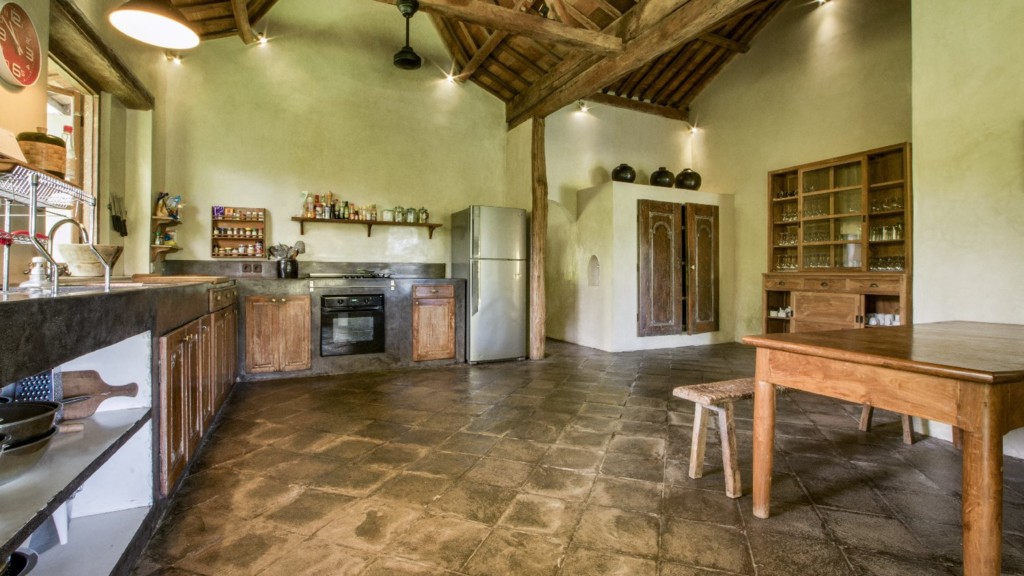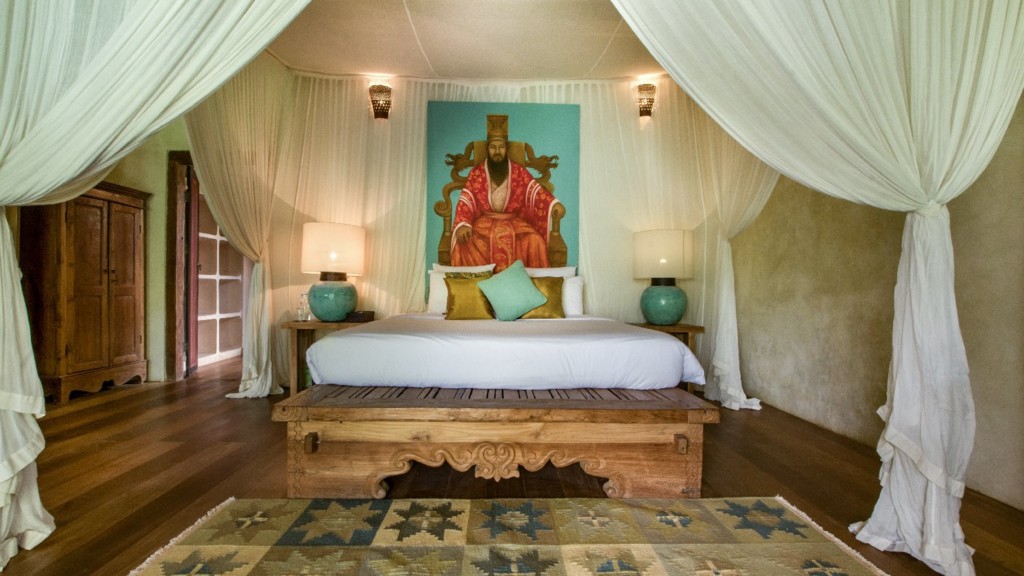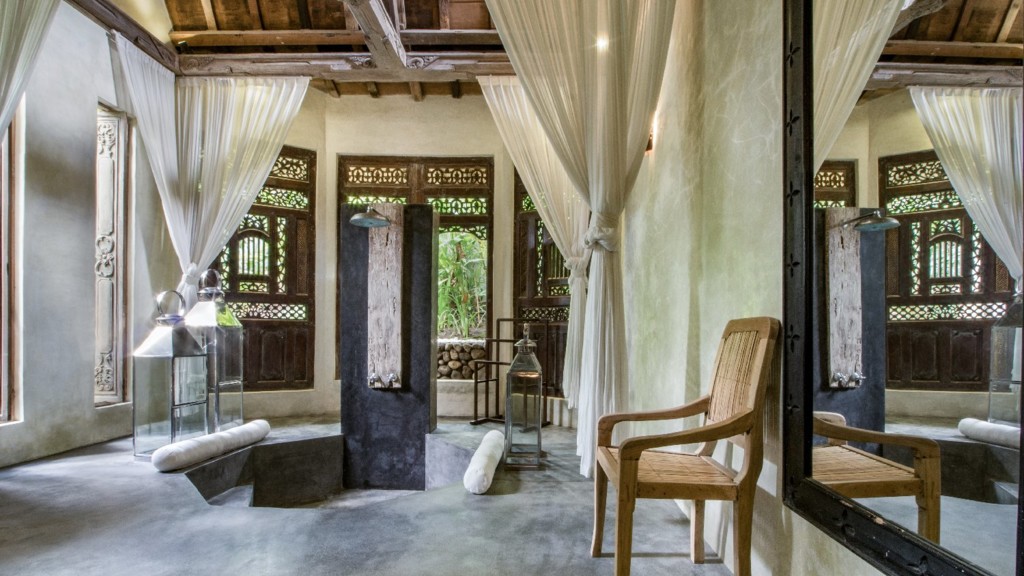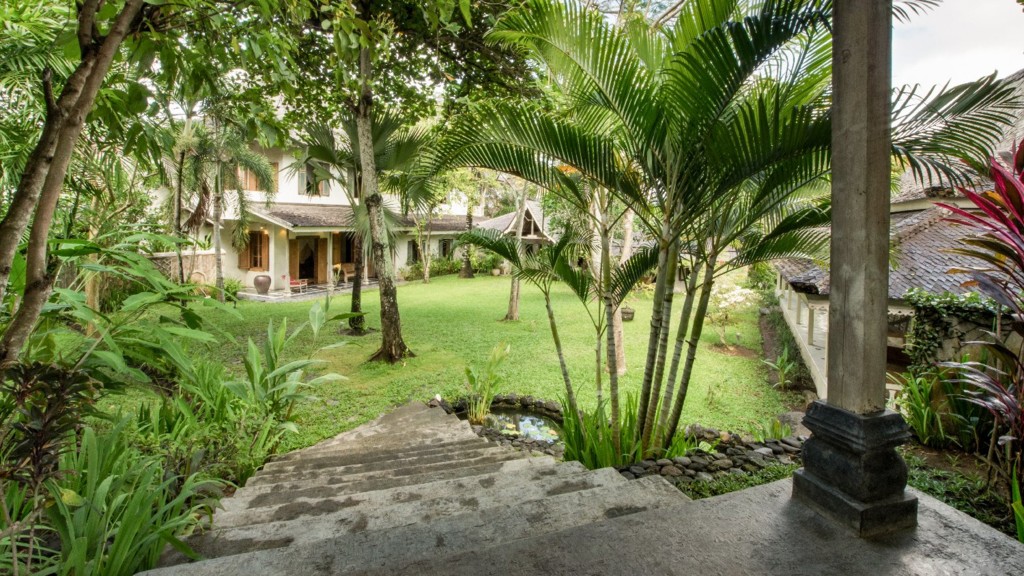 About our villa
Villa Galante is a private paradise with a huge garden in which antique Javanese Joglo's are scattered around, providing its guests with a real authentic Indonesian holiday home, surrounded by Bali's original habitat of endless rolling rice terraces and high swaying palm trees. Being surrounded by such untouched natural beauty while lounging in the soulful wooden Joglo, decorated with vintage artefacts and traditional artwork, you will feel miles and miles away from the madding crowds of Seminyak but actually, it is just a short drive away. This gives great opportunities for a day of shopping, wining and dining and surfing or clubbing at Seminyak's lively beaches with happening beach bars while inside the villa, you will enjoy complete tranquillity like a tropical oasis that is best kept secret for sure!
Villa Galante welcomes you in its expansive tropical garden, bordered by rice paddies. In the heart of the estate sparkles the stunning infinity pool where you can swim laps while gazing at the enchanting rice field view. On the pool-side timber deck there are comfy leaf-shaped sun-loungers for those wanting to tan or doze off to the sounds of nature as the kids run around freely on the manicured lawn, kicking a ball. There are lots of communal hang-out spots, such as the alfresco dining table or the BBQ pavilion for garden feasts and there are also cosy corners for reading a book and enjoying some peace and quiet.
The living pavilion is tucked in a huge antique Joglo descending from Java island. This majestic structure is designed open to both sides of the garden to maximize the view over the infinity pool and the rice paddies. The interior design breathes elegance and sophistication with a perfect mixture of Colonial antiques, traditional artwork and tropical charm. Share a bottle of chilled wine on the breezy veranda with some home-cooked snacks or curl up together on the sofa lounge in the centre of the villa's communal hub, you will be sure of quality time with your loved ones.
The 6 bedrooms are all tucked in traditional wooden joglo's. The 2-storey joglo houses 4 of the bedrooms of which 2 are adjoined by a balcony with garden view. Each of the other bedrooms are tucked in private joglo's with access to a veranda where you can enjoy your first cup of coffee in the morning. All the 6 bedrooms are designed with teak wooden furniture and romantic canopied king-size beds for a perfect night sleep. The rooms also feature modern amenities such as AC, a TV with DVD-player and a CD player and the en-suite bathrooms are luxurious, boasting bathtubs and relaxing hot/cold showers of which some are in the open-air for another wonderful tropical experience.
Click here to see all 66 villa pictures
Unforgettable stay in this wonderful villa. The home is warm, spacious and beautifully decorated. You feel immediately at home. The garden and the pool are even more beautiful than the pictures! The manager, Made, is an outstanding chef, the staff is charming, both attentive and discreet. We had a wonderful Christmas at the Villa Galante in which we would return with great pleasure.
The Villa is even better than it looks in pictures, absolutely beautifully presented. There is not a bad bedroom in the house - each room is generous and very well equipped. The house is much more sprawling than it appears in photos, there is certainly no lack of privacy - cannot recommend it more for a group holiday. The communal spaces are extremely generous, there is no end to the small spaces to curl up with a book. The staff were unbelievably hospitable, preparing a whole host of amazing meals which suited us perfectly. The outdoor area is second to none, we couldn't have asked for more. An unforgettable, unbelievable stay, would recommend extremely highly.
We've stayed in Villa Galante for 2 nights with a group of 12 friends. The villa is amazingly big and well decorated. The 20 meter long infinity pool and the view on the rice fields will leave is lots of great memories. The staff is super professional, the breakfasts and the dinner we had at the villa were delicious. Thanks Villa-Bali for having recommended this villa!
We have been warmly welcomed each time by the wonderful team at Villa Galante since 2013. Once you enter the villa, you have a sense of peacefulness and relaxation. It is unlike any other place we have stayed before, as we really have the sense of coming "home" when we go back each time with our young children. The bedrooms are decorated elegantly and the living area is designed with beautiful local ethnic furniture and sculptures that give a spiritual yet trendy feel. Overlooking a well manicured garden and lounge pool with a rice field as the perfect backdrop, Villa Galante's tranquility makes you forget the busy lifestyle you are escaping from during your stay. Their convenient location is just 10 minutes away from Seminyak area, so you are always just a step away from the trendy bars and restaurants but with Made as the villa's chef and caretaker, you won't want to eat anywhere else! His self taught, wide range of delicious cuisines ranging from local to western dishes are fantastic! Also, the housekeepers are very kind and discreet, sincerely welcoming us back every visit. If there is any place we recommend staying in Bali for a complete getaway and relaxing trip - not to be stuck in the hustle and bustle of Bali tourist areas, it's at Villa Galante. It has become our second home there now!
We spent two wonderful weeks at Villa Galante in October 2015. The house is hidden in a very quiet area, in the middle of a large and beautiful garden with an infinity swimming pool. The accommodation is luxurious and spacious, with its large and comfortable living room opening on the terrace and the garden. Each room (actually six, among which two are completely independent in the garden) has its own Balinese bathroom (shower and tub) and is tastefully decorated in the Balinese style. All have air conditioning. We had our meals either on the second terrace by the kitchen or at the edge of the swimming pool, depending on the mood. Special congratulations and thanks to Made, who cooked for us delicious meals. Probably the best cook in Bali, always eager to take care of us, and always welcoming us for breakfast with a friendly smile! Many thanks to the rest of the so kind staff too, who took care of our comfort, cleaning our rooms in the morning and preparing them for the night in the late evening. We won't forget our stay at Villa Galante, and will certainly come back with great pleasure, the sooner the better, for other real holidays.
This house is definitely incredible, close to very good places of Seminyak's center but it's really calm, like that you can concile calm, chill, Bali's bring of life and excursions. Bedrooms are bigs, bathrooms are open, decoration and furniture are really nice. You can enjoy being alone in few places and being with other in the big open livingroom. I stayed in this villa in August 2015, in family, my holidays were so good, the staff was perfect and the cook too. 
Seminyak and a very special place: a mix of modern and heritage house with a Balinese spirit. Peacefulness, luxury, spacious bedrooms and living areas… all the ingredients are here for successful holidays with friends and family. Our teenagers particularly enjoyed the large swimming pool and the garden. The staff was very kind and with Made in the kitchen, we discovered the delicious Balinese cooking. Villa Galante was our last accommodation in Bali and will remain one of our favorite memories in the island. Unforgettable.
Here are our availabilities for the next few months:
Minimum stay
4 Rooms
5 Rooms
6 Rooms
from 14/04/2017 to 22/04/2017
High season
5 nights

USD $

900

USD $

900

USD $

900

from 22/04/2017 to 01/07/2017
Low season
3 nights

USD $

600

USD $

650

USD $

700

from 01/07/2017 to 01/09/2017
High season
5 nights

USD $

900

USD $

900

USD $

900

from 01/09/2017 to 20/12/2017
Low season
3 nights

USD $

600

USD $

650

USD $

700

from 20/12/2017 to 11/01/2018
Peak season
7 nights

USD $

1,400

USD $

1,400

USD $

1,400

from 11/01/2018 to 01/07/2018
Low season
3 nights

USD $

600

USD $

650

USD $

700